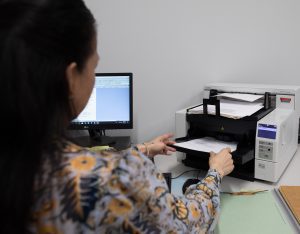 Extensive Options For Your Conversion and Service Needs
The QAI team can provide many options for your conversion and service needs. Capture platforms have matured over the years, creating more flexibility for service offerings and streamlined capabilities. With our modern tools, processes and resources, we provide expertise to help you resolve those challenging questions like "How do we do this in the most efficient manner?"
Do You Need to Consider Outsourcing?
Over the past several years, advancements in data capture technologies, stricter records management requirements and the goal of achieving the coveted "paperless office" have driven companies to seek more efficient ways of handling their information. But, with hundreds of thousands of documents (anything from HR forms, to healthcare records, M24-07 compliance to admissions applications) in a multitude of formats, some organizations are simply unable to support their capture initiatives in-house. Therefore, many are looking for expertise outside of their organization to convert, classify and archive their information to improve their document management processes.
Budget
It's almost an obvious question, but it's an essential one to ask. What is your budget for this project? If you are looking for a cost-effective option, consider outsourcing. With little to no capital expenditures (equipment, for example) or staff management overheads, you'll realize a low total cost of ownership (TCO) and faster return on investment (ROI). Bringing in an outside firm eliminates these superfluous expenses and frees up capital to allocate elsewhere.
Time & Turnaround
How soon do you need to complete this conversion project? If you take on the task internally, will you meet your deadline? Outside experts will help keep you on deadline and ensure a quick turnaround. For example, if an organization is preparing to downsize a space or is moving to a new office and needs documents converted and shredded within 30 days, outsourcing might be the way to go.
Back-File Conversions
Do you have thousands of documents that go back 50-some years, sitting in a file cabinet or closet without any type of organization? If you are in need of high-volume, back-file conversions, consider outsourcing. In fact, this is the most common type of outsourced project. In these cases, firms will come in and perform the backlog scanning, archiving and classification, and then provide day-forward software and equipment to help the company convert their ongoing active files in-house. It's almost a blend of outsourcing and insourcing. This parlays into another option to consider – the Hybrid approach.
The Hybrid Approach
The Hybrid approach to document capture is becoming the method of choice for many enterprises. And, it entails exactly what you would think – this approach allows companies to outsource when and where it is most appropriate, while handling some efforts internally. For example, a company may outsource the preparation, scanning and storing of information, but perform the indexing itself. Or, a company may choose to scan its most confidential documents in-house, and outsource the rest. There are many options, depending on your company and your business objectives.
Final Considerations For Outsourcing
If you're going to outsource, always select a provider that you can trust, especially if you are dealing with sensitive or classified information. Most organizations have nondisclosure agreements and security guidelines, which are certainly an added benefit. Also, understand the value of performing an upfront business process analysis. Your selected firm should first obtain a thorough grasp of your business, existing processes and goals, so work closely with your provider. As a result, the solution (whether completely outsourced or a hybrid approach) that you end up using will support those objectives.
Remember: If you're a bank, be a bank. If you're a federal agency, be a federal agency. If it makes sense, leave the document capture and conversions to the experts. You'll be able to focus on your own, day-to-day business priorities and position yourself for long-term success.