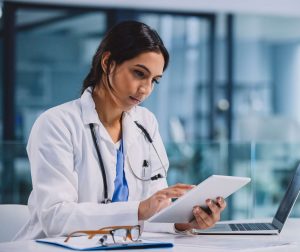 Technologies and Solutions for Healthcare Environments
Healthcare providers, payers and medical colleges need to ensure high-quality patient care while containing costs. A vital part of this is the ability to effectively manage the thousands of documents and images spread out across a healthcare organization that comprise patient records, insurance forms and other critical documents. This diverse, distributed content– required for decision-making by numerous professionals and staffers in the organization– may not be available when needed or may be out of date or inconsistent. QAI's technologies, solutions and services are used in a wide array of healthcare environments including hospitals, medical colleges, research institutes, and care-giving organizations.
HIPAA Compliance
HIPAA regulations require health care organizations to be more efficient and run their organizations more securely to enhance patient service and ensure the privacy and security of private personal health information.
The road to HIPAA compliance can be a challenge. Access to personal health information must be limited and its confidentiality must be diligently protected. Secure systems and processes must be in place to provide information in a timely, efficient and cost-effective way to the people that need to use it to drive patient healthcare decisions. In addition, healthcare organizations need to provide a reliable audit trail for tracking and reporting communications.
Key HIPAA Privacy and Security Areas
Authentication: In any exchange of electronic data, each party to the transaction must prove that every other party is exactly who they claim to be.
Access: All medical records must be secured from unauthorized access — even amongst your own staff.
Reporting/tracking: Log all access, transfers, and use of patient data (including for backup purposes), and audit those accesses, transfers and uses against patient authorization.
Sample Processes and Information Impacted by HIPAA
Health claims and equivalent encounter information
Enrollment in and disenrollment from a health plan
Eligibility for a health plan
Healthcare payment and remittance advice
Health plan premium payments
Referral certification and authorization
Coordination of benefits
Prescriptions
Learn more about how the document digitization experts at QAI can help healthcare organizations support HIPAA compliance, reduce costs and improve efficiency by contacting us today.