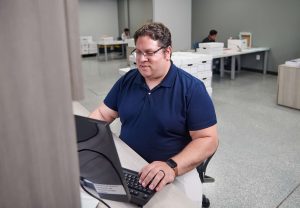 QAI Offers Compliance-Focused Data Management
M-23-07, issued 12/23/2022, is an update to M-19-21, which established several requirements to move Federal agencies to a fully electronic environment. Due to delays in the electronic records transition process during the COVID-19 pandemic, M-23-07 extends the original M-19-21 deadlines by 18 months and reaffirms the underlying goal of the transition to electronic records.At QAI, we are the trusted advisors to the industry and can help you meet NARA's M-19-21/M-23-07 compliance requirements with our suite of Records Modernization Solutions, one of the most comprehensive strategic approaches in the industry—backed by reliable methodologies and experienced teams of data/records management experts.
Records Modernization Assessment
M-19-21/M-23-07 establishes digital and paperless government as the standard moving forward. This initiative is not just a compliance exercise; it is an opportunity to use the directive's records management requirements to rethink how you manage your information and automate paper-based processes.Our Records Modernization Assessment identifies an inventory of the strengths and weaknesses of your agency's information management and records management systems. With its impartial focus, you gain an assessment of your capabilities for digitizing paper documents as well as benchmarks on how information management technologies are changing—critical to mapping an effective records modernization strategy for your agency.
Records Modernization Advisory Services
Core information management technologies are changing more rapidly than ever before, and many capabilities are moving to the cloud. Modernizing your information management and records management systems, however, is not just a matter of selecting the latest software and hardware. Connecting, deploying and managing these systems are more complex processes.To be fully compliant with M-19-21/M-23-07—and to place your agency on the same path to a digital government environment—requires a trusted advisor. With our Records Modernization Solutions, you can expect only the most experienced specialists who can help you integrate compliance requirements and existing capabilities into a modern strategy, and understand the practical issues and pitfalls associated with information management change.
Watch demonstrations from leading manufacturers of FADGI capable scanners and FADGI experts as they walk through the process of how to operationalize the new NARA digitization guidelines.