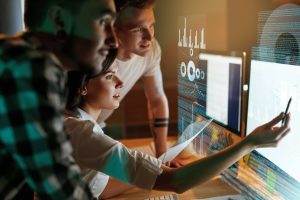 BPM and RPA – Enhance Efficiency, Improve Workflows and Drive Results
Company growth, the introduction of new technologies, and emphasis on efficiency and running "lean" have led to a greater focus on business process improvement. QAI has the expertise to help clients streamline existing processes through Business Process Management (BPM) and Robotic Process Automation (RPA) workflows, technologies and enhancements to create efficiencies in the way they manage and report information.
For every new project, QAI begins with business analysis in which we go on site/host remote sessions to document the project-related existing, or "as is" business processes. We then identify and document what the new solution can recreate, improve or eliminate, prior to performing a more in-depth analysis. Here, we look for elements including workflow purpose, key and missed steps, roadblocks and redundancies.
Then, we generate a document listing both the project requirements and the existing processes that would benefit most from modification via BPM and RPA. The documentation of the "should be" process incorporates the functionality the client desires, along with the process improvements that we would make. This document serves as an outline of a possible solution that all parties can review early in the design stage, and then continually adapt as needs and priorities shift during deployment.
As a result, our clients obtain a solution that not only streamlines their ability to manage documents and vital content, but also increases productivity and efficiency in their day-to-day operations through our business process automation services.
Embracing RPA in a Capture Environment
Many agencies and companies have several different platforms within their infrastructure. Gathering information and requests from customers and employees, often by a cloud base, accessible from anywhere form/UI is becoming more and more common. The integration and transfer of the captured data (from physical or electronic media) is commonly viewed as custom development. RPA has become the "go-to" tool to reduce the need for custom development (connectors) and streamline automated data sharing across platforms by configuring repetitive user tasks with out-of-the box configuration.
Our RPA Solutions Initiate With:
Identifying key decision makers
Process mapping of the existing business function
Permissions requirements for integrated platforms
Identifying data distribution points and destinations.
Key Development Items:
Access to platforms
Configuring the flows in the RPA UI
Following Agile development
UAT and end user acceptance
RPA is an excellent utility for replacing repetitive, mundane tasks performed everyday in the workplace that can enable your workplace to provide the best service both for employees and customers.
Check out our sister company, DocPoint Solutions' video tutorial on how we are implementing RPA for our SharePoint customers to solve these problems. Contact QAI to learn more about our BPA and RPA services.