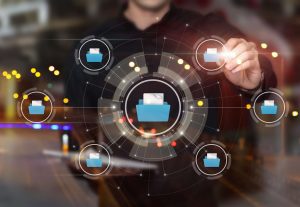 There are many benefits to moving to a modern records management strategy, one of the most important being that as the volume of electronic information rises, it will simply be impossible to keep up using backward-looking paper-based strategies. The major issues involved in moving to a more modern (i.e., electronic) approach to records management rather than a continued reliance on paper records are:
Cost: Implementing an electronic records management system can be expensive, especially for large organizations.
Security: Electronic records are more vulnerable to security threats than paper records.
Compliance: Organizations must comply with a variety of laws and regulations governing the management of electronic records.
Training: Employees need to be trained on how to use the new system and how to manage electronic records effectively.
Change Management: Moving to an electronic records management system can be a major change for an organization, and it is important to manage the change process carefully.
Addressing these issues is not simply a question of installing a piece of software. Rather, it requires that organizations work with a trusted partner like QAI that understands ALL of the facets of a modern records strategy and how they fit together. We can help with our digital transformation services.