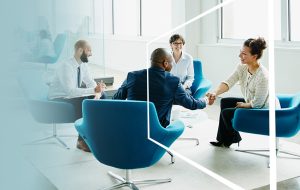 Konica Minolta Business Solutions U.S.A., Inc. Welcomes Quality Associates, Inc.
We are excited to announce that we are now a part of Konica Minolta Business Solutions U.S.A., Inc., an industry leader in Intelligent Information Management, technology optimization and cloud services. Going forward Quality Associates, Inc. and DocPoint Solutions will be maintained as wholly-owned subsidiaries of Konica Minolta. This means we maintain our corporate values, while adding significant resources and scale to our existing operations. In addition, the synergy between the organizations brings new opportunities to our clients with expanded offerings. Our newly combined teams will leverage their shared and proven best practices to focus on even higher levels of services and support for our clients.
What Does This Mean for Our Clients?
We will continue to provide the great service and support you have come to expect from us. Your existing relationship with us remains unchanged, but you will now benefit from the breath of Konica Minolta's offerings. These include Konica Minolta's nationwide support, technological innovations, Managed IT services, Intelligent Information Management Solutions, and custom application development capabilities.
About Konica Minolta Konica Minolta Business Solutions U.S.A., Inc.'s (Konica Minolta) journey started 150 years ago, with a vision to see and do things differently. The company innovates for the good of society and the world. The same purpose that kept it moving then, keeps it moving now. Konica Minolta aims to partner with clients to Give Shape to Ideas by supporting their digital transformation through its expansive Intelligent Connected Workplace portfolio. Its business technology offerings include IT Services, intelligent information management, video security solutions and managed print services, as well as office technology and industrial and commercial print solutions. Through its ongoing work, the company is fortunate to be continuously recognized for its products and services. This includes, but is not limited to being included on CRN's MSP 500 list numerous times; named a finalist in the IT Software Category by The World Technology Awards; recognized as the #1 Brand for Customer Loyalty in the MFP Office Copier Market by Brand Keys and presented with Keypoint Intelligence's BLI 2021 A3 Line of The Year and BLI 2021-2023 Most Color Consistent A3 Brand Awards for its bizhub i-Series.
Sustainability also continues to be a key driver for the company. As such, Konica Minolta Inc. has been named to the Dow Jones Sustainability World Index for nine consecutive years and has spent six years on the Global 100 Most Sustainable Corporations in the World list. For more information, please visit Konica Minolta online and follow its accounts on Facebook, YouTube, LinkedIn and Twitter.
View Konica Minolta's latest IIM video.