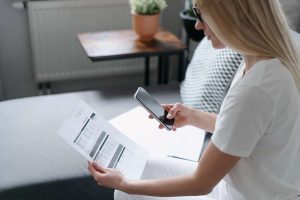 Making Critical Information Available at Your Fingertips
Information is the lifeblood of competitive companies and agencies. When critical information is trapped in files and folders, sitting in a fax machine or mailbox, or located in a remote office 1,000 miles away, it holds back operations – it delays your response times to the critical needs of your customers, vendors, and partners. It also slows down your business to the point where remaining competitive is next to impossible. And, it costs you more time, effort and money than you may realize.
For your business to remain competitive, you must have critical information readily accessible. The solution is to convert printed information into electronic data, expeditiously and seamlessly as well as ensure cost efficient distribution through digital transformation services.
QAI's Capture Solutions
QAI offers complete information capture solutions that provide your business with a more effective method of coordinating, validating and assimilating incoming documents. Not only will we empower your business with high-speed functionality in data capture, processing and integration, but we will improve the integrity of business-critical data by removing opportunities for loss or corruption.
QAI's Capture Service Offerings Include:
Mobile Capture
Dynamically capture and image information from a smartphone or tablet in real-time for greater customer service and faster transactions.
Dynamic Processing
Utilize unattended classification platformswith Machine Instruction and Machine Learning.
Process Intelligence and Analytics
Take your capture initiatives one step further – analyze and report on information to drive continuous improvements on loosely structured, variable, people and information-intensive business processes.
Systems Integration, Architecture and Support by Industry Subject Matter Experts
QAI's systems integration engineering team designs, develops, integrates and implements software and web applications that enable our clients to meet all their daily job demands efficiently. We also modernize applications, promote data and asset retention and identify systems for obsolescence.
The decision of when to select commercially available software products versus custom applications can be challenging for many organizations. QAI possesses experience on both sides of the equation to guide optimal decision making. Our expertise spans the spectrum of open-source, commercial off-the-shelf (COTS) and government off-the-shelf (GOTS) applications. For specialized needs, QAI can customize functionality, integrate software with existing applications or even design a complete solution from scratch.
A rigorous analysis of business and user needs precedes every QAI project design. This critical step ensures clarification and definition of every requirement before selecting, building or implementing a solution. And, because QAI emphasizes user-centric designs, our products not only require minimal learning but also increase user productivity and satisfaction.
Software Engineering Services
Business and process analysis
User interface (UI) and system design
Development, Implementation and testing
Operations and maintenance
Open source, commercial off-the-shelf (COTS) and government off-the-shelf (GOTS) product implementation, configuration and customization
Legacy software and content conversion
Platform modernization
Document, content and records management systems and portal implementations
Data extract, transform and load (ETL) and data migration
Contact us to learn more about our integration and implementation services.