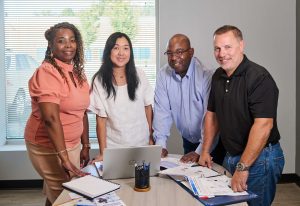 Industry Leaders In Content Management
Quality Associates, Inc.'s (QAI) Content Management and Conversion practice specializes in the onsite and offsite secure conversion of documents, and other media, to electronic formats. We offer a full range of paper-to-cloud products and services that include consulting, hardware, software, integration, training and post-implementation support. With well-documented procedures for quality control and an unmatched technical staff, we are able to offer conversion services at many of our national imaging centers.
State-of-the-Art Technology
Our state-of-the-art technology service offerings provide you with document management and digital data storage solutions that prove both cost effective and efficient. Our extensive experience with document conversion, records management, intelligent information management (IIM), systems integration and business process outsourcing (BPO) provides the level of expertise required to meet your organization's needs. For our Federal Government agencies, we offer you our M-19-21/M-23-07 records modernization services, one of the most comprehensive strategic approaches in the industry. The company is headquartered in close proximity to both Baltimore and Washington, D.C., in Fulton, Maryland. Our affiliate companies include Quality Assurance Consultancy and DocPoint Solutions.