(April 30, 2021) At Quality Associates Inc. (QAI), a Konica-Minolta company and leading authority of records management, we are pleased to announce that Kodak Alaris selected QAI as its Top Marketing Partner during the Kodak Alaris Virtual Partner Summit 2021. The award celebrates achievements realized with 2020 joint campaigns to educate the industry with metrics-based approaches on how to best comply with federal records management statutes and regulations, such as meeting the National Archives and Records Administration/Office of Management and Budget (NARA/OMB) M-19-21 initiative.
"It's always gratifying to be recognized by your industry peers, and we are honored to receive this award," stated Scott Swidersky, QAI President and Konica Minolta's Vice President of Intelligent Information Management (IIM). "Together, our efforts helped federal agencies better understand what is needed to meet the fast-approaching M-19 compliance deadlines and resoundingly established QAI as the leading authority in records management and M-19 compliance."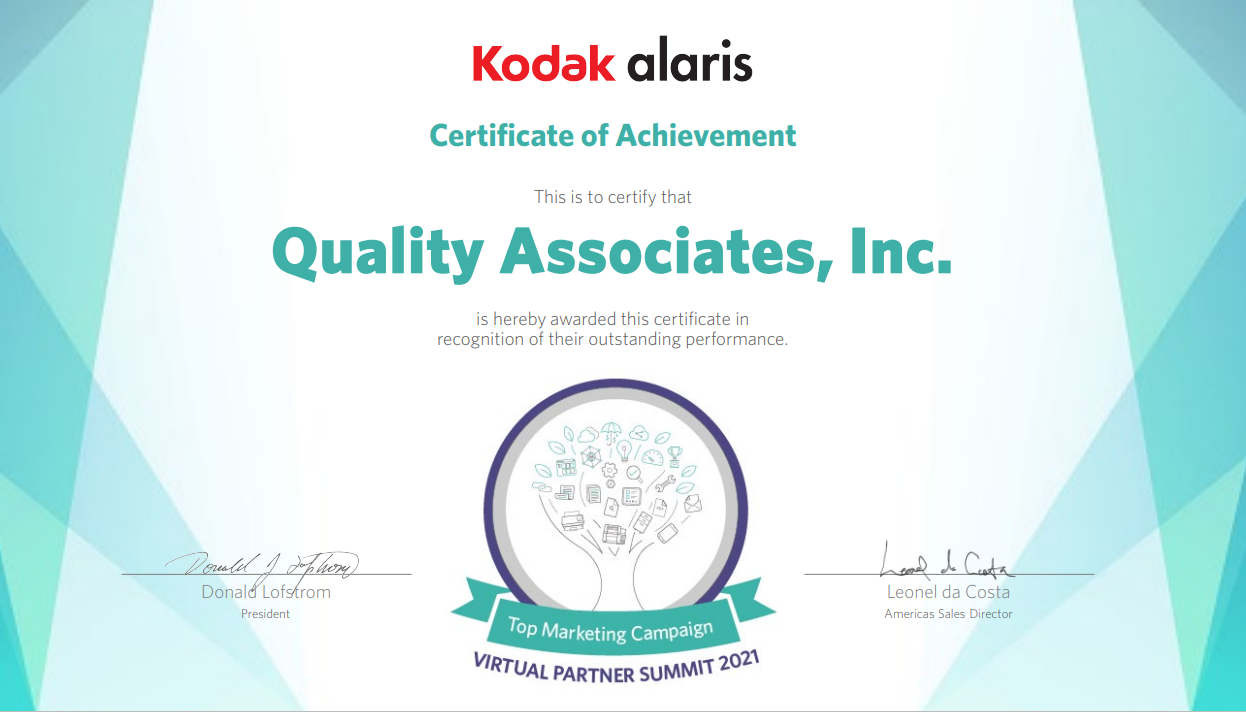 About Quality Associates, Inc.
Quality Associates, Inc. (QAI) sets the standard in service excellence with customized solutions that turn printed materials and electronic information into useful, organized data that can be readily located and accessed by authorized users. From scanning and imaging to complete, searchable systems that bring information directly to the desktop, QAI offers complete systems integration, support and post-deployment training to ensure success. Founded in 1986 and located near both Baltimore and Washington, D.C., QAI is recognized as one of the industry's most trusted, experienced Value-Added Resellers (VARs) with an extensive intelligent information management (IIM) supplier and partner network. QAI works with federal, state and local agencies; schools, colleges and universities; chemical and manufacturing companies; pharmaceutical, healthcare and medical research organizations; financial, accounting and law firms; professional associations; and many others. For more information, please call (410) 884-9100 or visit www.QualityAssociatesInc.com. Or socialize with us at www.linkedin.com/groups/12330726/ and www.twitter.com/QAI_USA.
About Alaris, a Kodak Alaris Business
Alaris is a leading provider of information capture solutions that simplify business processes. We exist to help the world make sense of information with smart, connected solutions powered by decades of image science innovation. Our award-winning range of scanners, software and services are available worldwide, and through our network of channel partners. For more information, please visit AlarisWorld.com and follow us @AlarisWorld.