Like most printer/multifunction (MFP) vendors, Konica Minolta is continuing to diversify its business to add more document-related solutions and services to its mix. The latest move is Konica Minolta Business Solutions U.S.A.'s acquisition of Fulton, MD-based reseller and service bureau Quality Associates, Inc. (QAI), along with QAI's wholly owned SharePoint-focused subsidiary DocPoint Solutions.
The QAI acquisition has several synergies with Konica Minolta's growing IIM practice:
QAI is a leading Kofax reseller, especially in the federal government market, and Konica Minolta is a Diamond Kofax partner globally.
In 2014, QAI was awarded a GPO 951-M Contract by U.S. Government Publishing Office, which Konica Minolta will be able to leverage to sell IIM solutions and SharePoint services into the federal government.
DocPoint adds to a Microsoft SharePoint integration practice that Konica Minolta has been building with the help of two acquisitions—Hershey Technologies last year [see DIR 8/14/15] and Cold Cypress in 2011.
QAI's service bureau business is complementary to the service bureau Konica Minolta acquired with AMS Imaging in 2014.
QAI/DocPoint represents the latest of several IIMfocused services businesses that Konica Minolta has acquired over the past few years. "This is our largest IIM-related acquisition in terms of people and revenue," said Sam Errigo, Executive Vice President, Sales and Business Development, Konica Minolta. "We did a lot of research on QAI and DocPoint; it is a highly respected organization with an unbelievable practice focusing on Kofax and SharePoint, and the service bureau fits very well with AMS's service bureau located in the Northeast.
"In addition, we did two acquisitions earlier this year for our core business [MFP and MPS sales] in the Baltimore/Washington area, which greatly expanded our sales coverage in the region. The QAI/DocPoint acquisition is strategic to our overall transformation strategy and will accelerate sales of IIM and BPO services into our customer base," Errigo said.
QAI Executive Director and DocPoint President Scott Swidersky couldn't have sounded happier that the deal had closed. "This is something we have been working on for the better part of 16 months," he told DIR. "We feel it's a real home run for our employees and customers.
"Our company has grown organically since it was founded more than 30 years ago, but we reached the point where we felt we had to consider an expansion strategy to keep pace with market demands. We had to consider a direction that was best for our company, employees, and customers. We had a number of conversations with venture capitalists, but we didn't feel that direction made sense because of the way they would manage the company going forward.
"As you know, Konica Minolta is going through an aggressive transformation process and pursuing IT services with a carve out for IIM. They had already acquired a few organizations with BPO and SharePoint services, as well as Hyland OnBase and Kofax practices. From our perspective, we felt we were directly aligned with what they were trying to become. The only question we had was 'Could they successfully integrate a company like ours?'"
Swidersky said that after much careful examination and consideration, the QAI team decided the answer was yes. "Of course, validation efforts happened from both sides," he said. "At the end of the day, you meet in the middle after many compromises where you hammer everything out. We talked to many organizations, but we felt only Konica Minolta could bring the type of value and ongoing investment required for long-term success. We didn't see anybody else in this space that had a really stable plan to help us develop beyond the footprint we have created. The reach and support of Konica Minolta should help us gain access to a lot of clients we don't currently have."
Swidersky noted some of the ways that QAI and DocPoint employees will benefit from being part of a larger organization. "As a relatively small business, we could not negotiate anything as great as Konica Minolta when it comes to health insurance and retirement plans," he said. "In addition, working for a larger operation like Konica Minolta will create broader opportunities. We are mostly a mid-Atlantic operation. Now our staff members will be able to look at opportunities available throughout Konica Minolta."
Swidersky will remain on board DocPoint, which will operate subsidiaries of Konica Minolta. "We were able to set up a solid employment agreement going forward," said Swidersky. "That's how a strategic business acquisition works—it shows that the acquiring company values your business."
Errigo concurred that Konica Minolta considers the employees at companies it acquires to be valuable assets. "One of the things we look at with all our acquisitions is the management team's desire to expand and grow their operations versus selling the company and leaving," he told DIR. "We are looking for teams that do an unbelievable job with their customers and employees and are at the point where they think they can do more but need the backing of a larger organization like Konica Minolta."
The terms of the deal were not announced. Xamcor, which specializes in developing M&A opportunities in the information management market, represented QAI in the negotiations. "QAI was able to get a valuation that was within the industry standard based on its revenue and EBITDA," said Paul Carman, president and CEO of Xamcor. "I think the deal shows that services are still important to companies. It is also a validation of the potential in the federal government sector."
Swidersky wanted to make it clear that QAI was not under pressure to sell. "Because there is so much consolidation in the industry, and some of it involves companies moving in the wrong direction, people have been asking me, 'is this a distressed sale?' The answer is no. We were well valued by Konica Minolta, and they met all our terms and expectations. Their interest in us was as a strategic buyer that wanted to take our talent and resources and enable them to move forward.
"Our alternatives would have been to sell out to a competitor or a VC, but either of those avenues would have likely led to some optimizations, which would have affected our employees, and we didn't want to go that route. We could have continued to operate as we were, profitably growing four to10 percent per year, but we are excited to have the opportunity to accelerate our growth, expand our market presence and leverage the Konica Minolta horsepower behind our engine."
More to come
Konica Minolta is not finished growing its IIM footprint. "We are going to continue to buy in the IIM services space; we will focus on companies that specialize in Hyland OnBase, SharePoint, and Kofax," said Errigo. "We will also continue to expand our BPO services in select markets to increase our coverage model. In the south, for example, we have an existing sales operation that we are looking to expand through acquisitions. It would be a bonus if the companies we buy have BPO services.
"It is our plan to selectively build out BPO as part of our core practice. Between QAI and AMS, we already have talented people who know the BPO space. We are not interested in focusing on high volumes at low margins. There are already plenty of providers in that area who we can partner with if needed. We are more concerned with being able to add value to a workflow—utilizing the same technology we sell to companies but offering it as a service."
Errigo concluded that Konica Minolta will focus on executing its transformation vision and strategy. "We will continue to invest in the companies we acquire—to retain their people and foster growth and opportunity," he said. "If organizations in the IIM space are interested in learning more about Konica Minolta and our growth strategy they can contact us anytime. We are easy to check out. We've done five IIM acquisitions in the last few years, and have been successful in retaining the employees, management teams, and customers, while growing their businesses."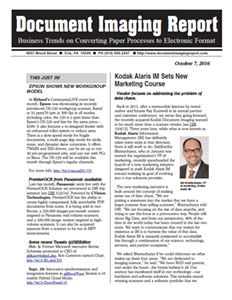 Download PDF