WASHINGTON, DC—Throughout its history, document imaging has rightly been positioned as part of the IT market. After all, it involves hardware and software, as well as integration into existing IT environments. But, what if we were to tell you that paradigm is changing— that document imaging is evolving into the realm of business analyst software and away from the control of IT?
This is part of a larger trend regarding the "commoditization of IT" that came to the forefront during presentations made at the Quality Associates, Inc. (QAI) and DocPoint Solutions eighth user conference held last week in a seventh floor conference room at the Newseum, overlooking downtown D.C. The event drew attendees from several federal government agencies, as well as private entities in the beltway area.
Based in nearby Fulton, MD, QAI is a document capture-focused service bureau and systems integrator, while DocPoint offers complementary SharePoint IIM services. Historically, the vendor has held its conferences in Annapolis, MD, but re-located this year to make it more convenient for its federal customers who responded well (despite some morning commute issues due to thunderstorms).
The event's keynote was given by John Burton, CEO of DocPoint partner Nintex, which develops BPM software designed to automate processes in SharePoint environments. Burton did a nice job distilling the message that AIIM's John Mancini and others have been promoting for the past couple years, regarding our industry's potential to marry systems of record with systems of engagement.
"In the content management industry, we are automating people, things, documents and content," Burton said. "This is not as exciting as a lot of the stuff pure data transaction processing guys have done. But, as the world is turning from IT, data-centric operations, to effectively a human-centric content world, content management vendors are being put in a key position to make some interesting changes."
Burton went on to explain that traditional IT has always focused on machines and data. "However, a lot of newer IT is about unstructured content," he said. "It involves social media, records, forms, sensory data—all these sources are growing faster than transactional data. Effectively, it's stuff that used to come from paper. It's forms that used to be filled out by hands that are now digital. You can't easily fit all this into a data model, because people don't think in data, they think in unstructured content."
This is where capture intersects with BPM to help automate processes. But in today's market, Burton stressed that BPM needs to be more agile than ever to handle constantly changing input. "BPM has historically been based on the old 'data-centric' model," he said. "Yes, BPM has been designed to deal with unstructured content, but first that content has been moved into IIM systems, and once you get it in there, it might as well be structured. Once content is in a traditional IIM system, it's very hard to get at it and change it and reroute it.
"In today's environment, you might have an influx of Tweets, for example, that makes you want to change a process immediately. You need to be able to get at those processes and change them any way you want. When thinking about BPM, I encourage businesses to think about small content, not big data. They need be to be able to remake their business processes, so that technology, people, processes, and content are all interchangeable and interdependent.
"New content management systems can't hide content. They need to expose it, and not in a proprietary manner. Then, there needs to be a collaborative means for helping automate the processes associated with that content."
Nintex has been very successful in delivering its brand of BPM. The Bellevue, WA-based ISV reported that it was expecting to exceed 30% growth for its fiscal 2015, which would have brought its annual revenue over $70M. Burton ran through some brief case studies with customers like LinkedIn, where Nintex helped cut in half the processing time for certain types of sales contracts. He also discussed how the Vail, CO, Water Authority was able to save $200,000 per year just by moving from paper to electronic forms.
"Every company has human-centric collaborative processes," Burton said. "They show up in multiple departments. In finance, you have purchase requests; in HR, there is onboarding and vacation requests; in IT, you have help desk requests; there is customer service and support; the list goes on. The bottom line is that if an organization automates any one of these processes, they will have happy constituents.
"My recommendation is that when organizations are getting started with BPM, they start small. They should find something bite-sized that involves multiple people and types of content. They should look at processes that are approval-based and involve provisioning, where they need collaboration and communication. They also need to be prepared that it might not work perfectly the first time. But, once some adjustments are made and they find their first reference point, it will help them be able to do their next automation project for another group, and then another, and so on."
Burton explained that users typically start with Nintex purchases well under six figures and grow from there. He said that making Nintex available on the cloud has reduced the barrier to entry even further. "According to the statistics we've seen, 75% of the money IT departments are currently spending is on legacy systems," said Burton. "That's doesn't leave a lot left to spend on new implementations. So, as vendors, we have to find ways to build new systems differently.
"The key is self-service for the users. We have to create systems that users can configure themselves without the need to get IT involved. Our services have to be building blocks that are already connected to their ecosystems. We have to be service providers and enablers that in the background are taking care of concerns like security and reliability.
"Today, 52% of IT decisions are being made exclusively by IT organizations," Burton added. "But, within a couple years, IDC says that 60% of IT spending in the U.S. will be controlled by line of business users. This includes the people in charge of areas like HR, finance, and procurement. IT is changing—it's becoming a facilitator."
Mitigating risk
It was this point that another speaker at the event, Salvador Barragan, really hammered home. Barragan is the chief of section: Information Governance at the International Monetary Fund. He previously worked as director of records management at the Inter-American Development Bank. Although Barragan is not an economist, he told DIR that his way of thinking is influenced by his work in that field.
Barragan's presentation was titled "Changing How Content is Analyzed and its Effect on Organizations." "I should have just called it "The Cloud and the Commoditization of IT," he said. "IT, as we all know, has created a monstrous infrastructure within most organizations today. But if you look at the emergence of platforms like Azure and AWS, IT is starting to become commoditized—like power was in the early 20th century.
"It used to be that to run a manufacturing plant, having an onsite power facility was a huge competitive advantage. Then, a national infrastructure was created for distributing electricity, and power become commoditized. While, this infrastructure was emerging, manufacturers had an important executive called the chief electricity officer."
Barragan's view is that organizations' initiatives to move their IT to cloud services will end up being primarily about mitigating risk. "If you look at paper processes, they are typically very simple, straightforward, and centralized," he said. "When you move to electronic processes, they become more decentralized. Everyone becomes empowered to manage their own information. Sure, you can set up retention schedules for managing electronic documents, but studies have shown that up to 70% of those fail.
"If you look at regulations that have been set up in the past 15 years like Sarbanes-Oxley, HIPAA, and the Federal Rules of Civil Procedure, they all create consequences for records and data management failures. So, it's necessary to govern all this electronic information, but the question comes down to who is going to do it?"
Barragan asks why organizations would want to carry the risk associated with data management if IT is not a core competency. "What has happened is that a lot of businesses that started out focusing on other areas have become giant IT shops; they have forgotten what they were in business for in the first place," he said. "But, there are a couple of developments that are causing this to change.
"The first was the fall of the Berlin Wall in 1989. That expanded the labor market and started the decentralization of IT. Now, when you add in the emergence of cloud infrastructures, organizations have the ability to hire programmers around the world and quickly have them spinning up applications in the cloud. This is causing software to become commoditized. Why would you want to do it in house anymore? Why carry all the risk associated with IT if it is not a core function of your organization?
"Going forward, I think there is going to be a lot more focus on understanding the Azure and AWS frameworks. The scale of companies like Microsoft and Amazon makes competing with them impossible. Vendors and businesses are going to be looking at how they integrate their stuff into those frameworks and dovetail with them.
"This is going to lead to the accountants and budget people eliminating IT and the overhead associated with it. In essence, they are going to be moving the risk associated with IT to a third-party and reinvesting their IT budgets into more core activities."
So, where does this leave software vendors? "They are going to have to be more like IKEA and create building blocks, running on these cloud platforms, that non-IT business analysts can put together to create solutions," said Barragan.
IT as a Toolbox
Olivia Stewart, a senior SharePoint solutions architect for DocPoint, noted that she is already seeing this trend in the field. "Increasingly, business is controlling IT," she stated during her presentation on "IT Moving out of the Basement…Like 20- something Kids." "Or, we are seeing business users go around IT."
Stewart suggested that IT needs to evolve from providing solutions to providing tools to business users. "Things are moving too fast in today's world for IT to have to build solutions and process changes—by the time all this gets done, users' needs have changed," she said. "IT has to learn to create toolboxes that business users can create their own solutions with. Business users understand their needs better than IT ever will. This will also prevent business users from going around IT, which creates security risks."
Stewart added that training also needs to regain its position as a priority. "In the 1980s and 1990s, there was lots of training going on for applications like Excel, for example," she said. "Now, when you see budget cuts, testing and training are typically the first things to go. There is an assumption that people already know how to use technology today. Sure, they can use it to order stuff on Amazon, but the issues you run into with business software are much more complex.
"The bottom line is that IT needs to provide tools and teach business users how to utilize them. This will enable them to build their own solutions."
Pushing the market forward
Scott Swidersky, who serves as executive director of QAI and president of DocPoint, was pleasantly surprised that the theme regarding the evolution of IT emerged at the conference. "I really just wanted to talk about IIM, the positive impacts it can have, and how that can change business," he said. "The conversation went the way of who can affect those changes and how they can best be implemented in today's environment."
Late last year, QAI and DocPoint put out a press release announcing how they had helped three of their vendor partners win the largest deals in the histories of their companies. Swidersky stressed how the integrator's experience and understanding of the federal market was key to getting those deals done. During a partner dinner the night prior to this year's conference, encouraged the dozen event sponsors to present a solutions-oriented face to the event attendees.
In addition to long-time QAI/DocPoint partners like Kodak Alaris, Nintex, and Kofax, eSignLive by Vasco was a high-level sponsor. Although not the brand-recognized leader in the e-signature market, eSignLive was able to demonstrate some unique capabilities regarding security and auditability that have made it a favorite among government and financial services users. Founded in 1992 as Silanis Technology, the company has grown steadily with the e-signature market. It's these type of well-constructed partnerships that help differentiate QAI/DocPoint.
Swidersky added that he expects more growth to come as the document imaging and IT markets, as well as the federal space evolve. "We are seeing too many people in our market giving up," he said. "At QAI and DocPoint, we will continue to push forward and grow. We still think there is plenty of opportunity."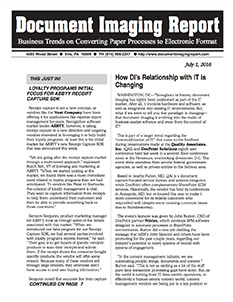 Download PDF