Update on M-19-21 Deadlines
During NARA's August 24 BRIDG (Bimonthly Records and Information Discussion Group) meeting – link HERE – the NARA leadership discussed NARA's M-19-21 deadlines, Draft Strategic Plan FY 2022-2026 (see post on the NARA plan HERE), gave an update on the Federal Records Center Program, and reviewed NARA plans relative to the January 26 Presidential Memorandum on Tribal Consultation (text is HERE).
In addition to the formal presentations, the meeting (and especially the Q&A) provided insights into a number of current M-19-21 topics of particular interest to federal records officers.
M-19-21 Deadlines: The elephant in the room for many federal agencies is whether the NARA/OMB deadlines in M-19-21 will be adjusted as a result of the disruptions caused by the pandemic. For those needing a quick update on those deadlines: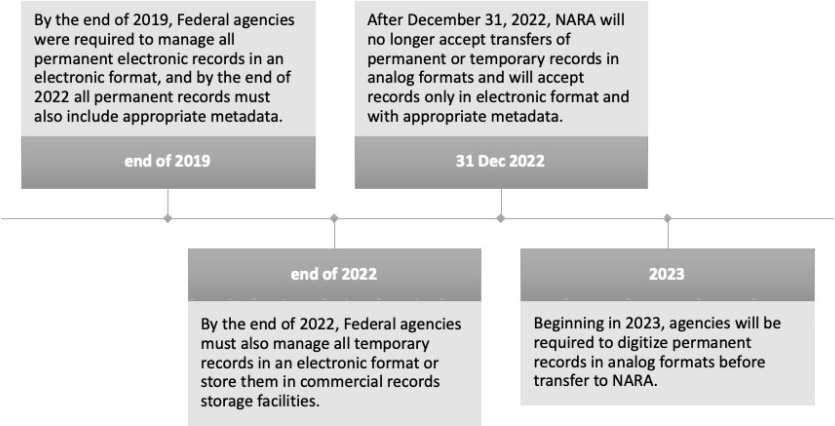 NARA Chief Records Officer Laurence Brewer noted, "We do understand the impact that COVID has had on all of us as we work towards these goals." He noted that NARA "does expect to have discussions with OMB about where we are with the requirements andd targets that were established in M-19-21, but that they have not yet had those conversations at a very detailed level." Brewer reiterated that because M-19-21 was a joint memo with OMB, NARA cannot unilaterally change the targets.
Exceptions to the M-19-21 Deadlines: There were a number of issues raised about the process for requesting exceptions to the M-19-21 deadlines, and the net-net of the comments about exceptions were: 1) every exception request is different, therefore there is no single template for exceptions; and 2) get your requests in early.
Per Laurence Brewer:
When it comes to exceptions, they are all different. They're all very unique and represent case by case scenarios that we need to think through together….Everyone is looking for an easy path for how to submit exceptions….While there are some basic pieces of information like the scheduling authority, scope, and complexity that needs to be a part of the justification that goes along with exception requests, it's very difficult to apply a standardized template for agencies to use when submitting these requests.
The process tied to declassifying documents and then accessioning those documents to NARA is one that is particularly challenging right now given COVID-related delays at the Federal Records Centers (more on that to follow). Per one questioner,
It takes time for a Federal Agency to pull classified hardcopy permanent records from a Federal Records Center, declassify the records, then offer the declassified records to NARA for accessioning. As OMB Memorandum M-19-21 currently stands, that process won't work if a Federal Agency tries to accession declassified hardcopy permanent records after 31 Dec 2022 unless the Federal Agency takes the extra step to digitize the declassified hardcopy permanent records. Will there be an allowance in such cases?
The short answer is that no blanket exceptions have been made to deal with this situation, and agencies that face this challenge need to make their exception requests — and the sooner the better.
Pending NARA Standard for Digitization of Permanent Records: Past QAI posts (HERE and HERE) have discussed the core elements of the pending standard and the role that FADGI certification will play in the process. In terms of the formal timetable for release of the standard, Laurence Brewer notes,
We are still in the last stages of reviewing and adjudicating the comments to the standard, and expect that they will soon be sent over to OMB for final review. We need to wait and see what concerns OMB may have when they see our final adjudication of all the comments that we have received. We're actively working on it, and hope that we can get this resolved and published and final as soon as possible.
COVID-related Delays at the Federal Records Centers (FRC): During the first webinar in the QAI Industry Briefs series (link HERE), Dave Simmons (GSA) and Mark Patrick (Joint Staff) raised the question of processing delays at the Federal Records Centers.
Gordon Everett (Director of the Federal Records Center Program) noted that nine of the FRC buildings are currently closed, and eight are in phase 1 of reopening COVID. "We're not doing it at the level that we normally are in each of the centers. But there is some disposal that is being done. Transfers are going to be delayed because of resources. It is just something that we're trying to work through."
In response to whether the Federal Records Centers will be able to meet the deadlines in M-19-21, Gordon Everett noted, "We're still on target for M-19-21, but It depends on when we open up. We're still on target… Will all the records be in the door by December 31, 2022? Not likely. But obviously we will have the approvals of those that are coming in, although it may take some time to actually bring all of them in."
–––
Action Item:
Industry Briefs is an exclusive series of short discussions about the M-19-21 directive, records management and digitization. Mark your calendars for the next QAI Industry Briefs webinar, focused on whether, how, and where to digitize paper records.
Date: September 14
Time: 11 am eastern
#NARACompliance #M-19-21