SAORM / RMSA Reporting During Social Distancing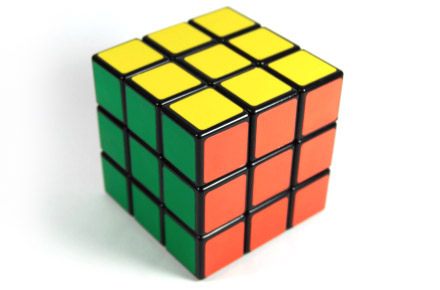 We are clearly in uncharted waters when it comes to social distancing and the Coronavirus.
Buzzfeed listed 14 unusual things people are doing during this time of sheltering in place. Among the more interesting…
Binge watch The Walking Dead and/or Breaking Bad.
Finish writing thank you notes from your high school graduation party.
Finally get that podcast off the ground, do two episodes, and then immediately give up.
Clean your shower.
Learn how to solve a Rubik's cube.
I have considered some of these in my own time of social isolation — well except for #2 because I graduated high school — let's see…gulp — 47 years ago. And I've also thought of a few more diversions I've employed. In the absence of live sports, in the past week I have watched the last three games of last year's UVA March Madness (spoiler alert, UVA won!) and all the games (17!) of the Washington Nationals World Series run (spoiler alert, the Nats won!)
But let me tell you a more productive diversion. Give me a few paragraphs to explain.
NARA is currently in the process of collecting the annual Records Management Self Assessment (RMSA) and Senior Agency Official for Records Management (SAORM) annual reports. The compilation of the RMSA reports doesn't usually happen until September (you can get last year's version HERE). But the SAORM annual reports seem to be published as they come in; and so far the reports for 62 federal agencies and departments have been published. Because they were just completed, they provide an interesting snapshot into some of the records management and M-19-21 issues facing agencies.
The most interesting question asked of SAORMs in the survey (at least for me) was this one, number 8 — Do you, as the SAORM, see challenges within your agency in meeting the goal of fully-electronic record-keeping?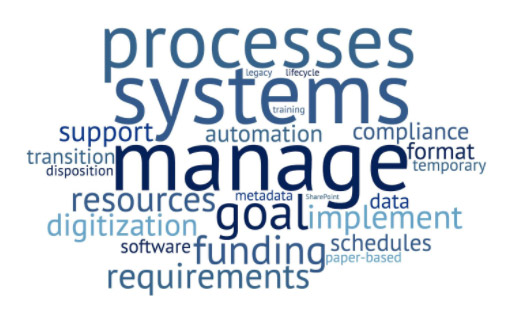 And so I decided to scrape text for all of the question 8 answers across all of the reports submitted so far. It's worth noting that 45 of the 62 responding SAORMs (73%) responded "YES" to the question of whether they see challenges in meeting the goal of fully-electronic record-keeping. So there clearly are challenges ahead for most agencies, challenges that have been highlighted and brought into focus by the looming M-19-21 deadlines.
But my Corona social distancing project was this: Pull all of the text from this question into a single word cloud, and see what conclusions I could draw.
Here are my quick SAORM key challenges takeaways from this cloud, drawing from words that leap out:
M-19-21 is not just a records management "box" that needs to be checked, but a core strategy in how agencies will prepare their systems for the era of Digital Government.
Resources (both money and people) and <strongfunding remain challenges.
Effective implementation of M-19-21 will not occur solely by establishing goals; that's necessary, but not sufficient.
Effective implementation will only come through the active involvement of SAORMs in managing the often challenging and conflicting requirements necessary to drive automation and digitization.I'm going to be referring to this word cloud in my next few posts exploring some of the issues agencies are facing in building M-19-21 compliance plans. I will build on the excellent presentations by records managers much smarter than me at this week's Federal Computer Week Electronic Records Readiness: A Practical Path to M-19-21 Compliance Seminar (turned into a virtual seminar due to Coronavirus). The presentations will be made available shortly, and I'll add the links here when they become available. Watch this space.

#NARACompliance #M-19-21