6 Key SAORM Records Management Worries About M-19-21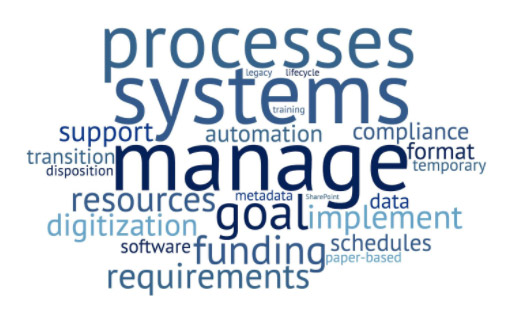 Last week, I reviewed responses to this question: Do you, as the SAORM, see records management challenges within your agency in meeting the goal of fully-electronic record-keeping? The word cloud shows a distillation of the responses.
I took a deep dive into the response from the Department of Homeland Security (DHS), because I thought this represented an interesting microcosm of six things that every SAORM (Senior Agency Official for Records Management) should be concerned about. [The direct DHS response for each one noted in italics; the other commentary is mine.]
1 – Unfunded mandates: Competing mission priorities impact funding.
An ongoing concern for agency SAORMs is that M-19-21 records management requirements were put in place without any real thought given to how to pay for them. This means that agencies cannot look to M-19-21 compliance through the business as usual prism. M-19-21 compliance in the presence of competing funding priorities must be approached through the lens of modernization; the economics of electronics records have changed a lot in the past few years, and that is the pathway to pay for M-19-21.
2 – Inherited legacy systems: Updating large volume of data from a legacy format to electronic.
While agency SAORMs modernize their records management systems, they must also simultaneously build a strategy to deal with the information in legacy systems and in legacy formats (including paper). The key word here is strategy; legacy transition and migration cannot be approached as an afterthought to be addressed at some vague point down the road. The December 31, 2022 transfer requirements will not allow it.
3 – Enterprise Implementation: Implementation of O365 Suite (E3) is still in early stages and its impact is still unknown.
Most agencies — like their private sector counterparts — have significant Office 365 implementations as part of the M-19-21 compliance puzzle. The key here is to take advantage of some of the newer automated governance capabilities both within Office 365 and available through partners. Implementing Office 365 without a parallel strategy for automated governance is a recipe for disaster.
4 – Culture Change Management: Promoting a strategic direction to modernize records management across DHS.
The biggest hurdle in any significant technology modernization is overcoming the bias toward "we've always done it this way." Most organizations, though, view change management as an afterthought rather than a hurdle to be directly addressed.
5 – Training: DHS needs to create and facilitate records officer training to encourage innovation and modernization of records management.
Many record officers need to elevate their game, and understand that while they will be on the hook to check off the M-19-21 compliance box, the real reason for the M-19-21 deadlines in the first place is to accelerate the transition to digital government. This means a focus on the links between effective information governance and the ability to deliver on the agency's mission.
6 – Personnel: DHS records officer's attention may be pulled in several different directions due to many individuals holding this position as a dual duty.
Effective governance of unstructured information (i.e., content) demands a different set of disciplines and concepts than data governance. Organizations must understand the unique contribution that records officers have to addressing this question, and broaden IT understanding of these unique issues.
—-
Note: Watch for the recording of the March 25 Federal Computer Week Seminar on Electronic Records Readiness: A Practical Path to M-19-21 Compliance Seminar. This was the second in a series of seminars on M-19-21 conducted by FCW; presentations from the first seminar can be found HERE.
#NARACompliance #M-19-21