The REAL point of M-19-21; Conquering Information Chaos with Electronic Records
As things begin to come back to some semblance of normal (we hope!), many agencies are refocusing on the reality of the records management compliance deadlines contained in M-19-21. The push toward electronic records has begun:
By the end of 2019, Federal agencies were required to manage all permanent electronic records in an electronic format, and by the end of 2022 all permanent records must also include appropriate metadata.
By the end of 2022, Federal agencies must also manage all temporary records in an electronic format or store them in commercial records storage facilities.
After December 31, 2022, NARA will no longer accept transfers of permanent or temporary records in analog formats and will accept records only in electronic format and with appropriate metadata.
Beginning in 2023, agencies will be required to digitize permanent records in analog formats before transfer to NARA.
Let's assume for a minute that these deadlines didn't exist. What would change?
The reality is that agencies would STILL need to push – and push hard – toward the modernization and digitization goals that are implicit M-19-12. Why? The original M-19-21 memorandum from OMB does a pretty good job explaining the situation facing not just federal agencies, but facing ANY organization — public or private – that needs to stay competitive:
The Federal Government spends hundreds of millions of taxpayer dollars and thousands of hours annually to create, use, and store Federal records in analog (paper and other non-electronic) formats. Maintaining large volumes of analog records requires dedicated resources, management attention, and security investments that should be applied to more effectively managing electronic records. The processes that create analog records increase burden on citizens by requiring them to conduct business with the Government in person or by mail, rather than online, and trap valuable Federal data in paper records where it can only be extracted manually and at great expense.
In some work I did for AIIM earlier this year, I asked nearly 500 executives two questions that illustrate the crisis that is the real heart of the M-19 deadlines — a rising tide of information chaos.
Question 1 — Assume the current volume of incoming information is "X" — what do you think it will be in 2 years?
Question 2 — What would be your best guess for the percentage of UNSTRUCTURED information in your organization?
The detailed results are in the chart below, but the core point to remember is this:
If the VOLUME of incoming information is increasing by 4.5x over the next two years, and 57% of this information is UNSTRUCTURED (i.e., things that don't fit neatly into the rows and columns of a database), SOMETHING HAS TO CHANGE.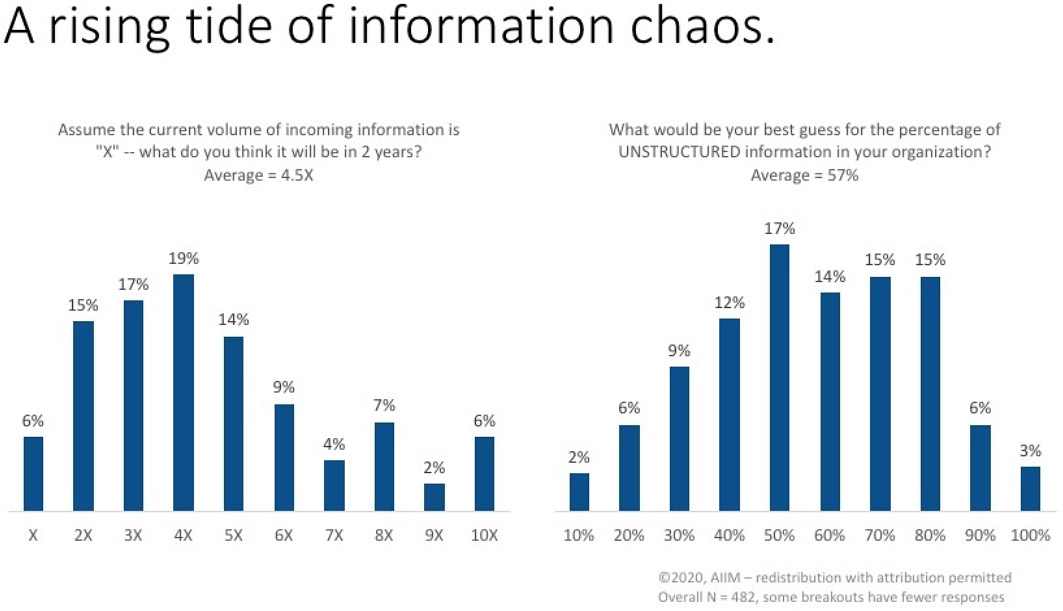 That "something" is the drive to the cloud and platform modernization that is the REAL heart of M-19-21.
The old ways will no longer suffice. The manual processes and paper documents that we've grown to know and love (?) – or at least have grown comfortable with (!) – must change.
FCW and QAI started talking about these changes back in December – Meeting the Deadlines of M-19-21. The focus of the first seminar was simply understanding the nature of the challenge facing agencies. In March, they shifted the focus to A Practical Path to M-19-21 Compliance. And on June 30, they will push the envelope even further, focusing on TRANSFORMING to Meet M-19-21 Requirements.
It's not too late to register. Join over 500 of your colleagues on June 30 for a one of a kind online event focused on how M-19-21 can be used to drive broader agency transformation. Discussion topics include:
How solicitations are being structured to support M-19-21 compliance
Making electronic records part of broader modernization efforts
New technologies and their mission impacts
The role SIs can play
Finding the funding and scoping appropriately
NARA's evolving role — key milestones and available assistance
#NARACompliance #M-19-21