Five ways COVID has changed federal agency approaches to electronic records and M-19-21
COVID changed Federal Electronic Records. It's a fact. As in the private sector, many federal agencies were unprepared for the remote working demands generated by COVID. According to a 2020 AIIM survey – Mastering Your Microsoft 365 and SharePoint Investment – across organizations of all types, only one in three organizations felt they were prepared for the demands of remote work prior to COVID. This led to the rapid adoption of many remote and collaborative solutions in time frames hitherto unknown in large organizations. For example, three out of four organizations in the AIIM report say their use of Microsoft Teams "increased" or "increased significantly" as a result of COVID. For many unprepared organizations, the net result was a significant increase in information chaos. 42% of organizations say the top RM challenge in M365 is records chaos: "Records are everywhere – Information volume and variety expanding too quickly." While these data points are drawn from a broad private/public sample, anecdotal evidence points to a similar experience in both the private and public sectors: 1) overly rapid deployment of remote solutions in an emergency setting; and 2) a resulting increase in governance challenges.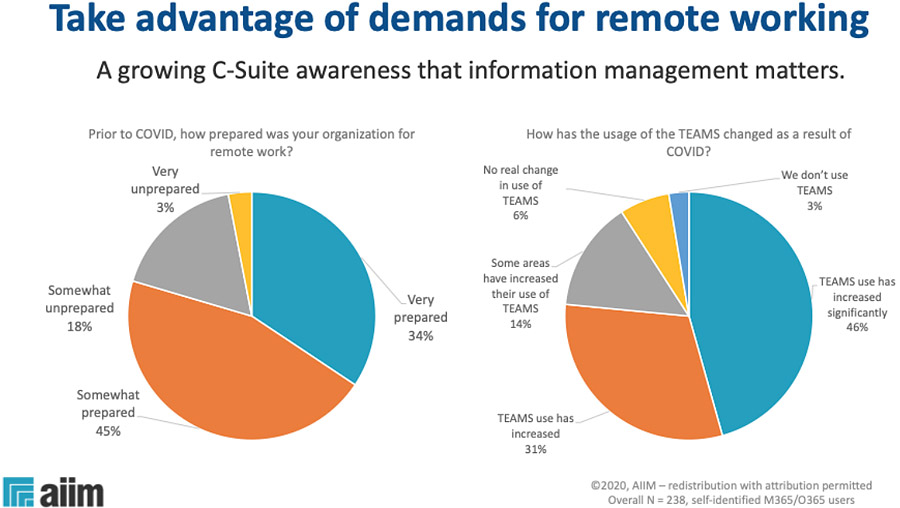 There is an upside to all of this confusion – senior executives now have direct evidence that the effectiveness of their agency in managing information and records is directly tied to their ability to achieve mission objectives and satisfy constituent concerns.
The collective impact of all of this… is a rising appreciation for the importance of how remote working and collaboration actually work. There is also a rising awareness that much of what has been done out of necessity during COVID has highlighted the many governance, security, and accountability gaps that need to be addressed. This combination provides an opportunity for those who have long sought attention for effective information management as a prerequisite for digital transformation. (AIIM, Mastering Your Microsoft 365 and SharePoint Investment)
Every year, NARA does a very interesting benchmarking of the current state of electronic records management across the federal government. The research includes annual submissions by the SOARMs (Senior Agency Officials for Records Management), and Records Management and Email Management self-assessments. The actual research is usually done in calendar Q1, and then released later in the year – usually in September or October.
What many don't realize is that the SOARM reports are posted to the NARA page as they are received (HERE) and represent an interesting real-time snapshot of the current state of records management in agencies. Over the next few posts, I'll dive into the SOARM reports that have been filed so far, and probe a bit how agencies are doing in the challenge to meet M1921 deadlines.
For this first post, I will focus on question 2 of the SOARM reports in this most unusual of years – Has the COVID-19 pandemic changed any policies or practices related to records management at your agency? – and pull out a couple of overall themes in the responses to date. Based on the early SOARM submissions, here are five key trends related to the impact of COVID on records management and M-19-21. [Summary point is my interpretation; all examples are quoted directly from agency SOARM filings.]
COVID changed Federal Electronic Records by providing a clearer understanding of the records issues associated with remote work.

COVID-19 has had some interesting positive program impacts as well: as the DOE workforce began working from home, it has accelerated the pace of electronic records management activities and highlighted the need for prioritizing electronic recordkeeping solutions. (Department of Energy)
Extensive telework has required adaptation of practices that have moved DOI toward full electronic records management but there is still considerable work to do. Overall, the constraints were significantly mitigated because our past investments in records management automation allowed us to operate many functions remotely. (Department of the Interior)
During the past year, the NASA Data Governance Board (DGB) chaired by NASA's Chief Data Officer was established and chartered under the purview of the CIO who is the SAORM. The DGB sets and enforces NASA priorities for managing data, including records, as a strategic Agency asset to support its mission. Board members and ex-officio members are all top managers of every Agency mission and non-mission organization. The DGB will set and enforce priorities for managing data as a strategic asset with domain prioritization of data sharing and Information Technology (IT) transformation efforts to address business needs across the NASA enterprise. (NASA)
The Commission has been on full situational telework status since March 13, 2020. All temporary and permanent records are available to all personnel through shared drives in the agency's network. During this reporting year, employees and contractors logged in using an RSA SecurID token to gain connectivity to the virtual private agency network safely from their respective telework locations. The agency uses an electronic case management system to manage its cases docket, also available remotely. (Federal Mine Safety and Health Review Commission)
The Office of Records Management Services (ORMS) issued guidance to SEC staff on managing records while working from home. This guidance reinforced previous guidance and training for SEC staff as the agency operated in a mandatory telework posture during the pandemic. (Securities and Exchange Commission)
During our maximum telework period, staff may have printed reference copies at their telework location and may also have shredding capability. The best practice is to destroy those reference copies in the office with a government approved shredder, to ensure the records are destroyed properly. (U.S. Trade and Development Agency)

A renewed emphasis on remote RM training and education.

Developed virtual records management training. (National Security Agency)
Enhanced promulgation of record management instruction and guidance for telework Employees. (National Security Agency)
Agency personnel were provided additional information on using remote access tools and leveraging technology instead of printing hard copies. (Comptroller of the Currency)
The Records and Information Management program modified the Records Liaison Officers (RLO) training and workshops to support the remote environment, instead of specifically meeting with RLOs within their offices, reviewing records in file cabinets, and transferring hardcopy records, the RIM program focused on electronic records, email management, electronic messaging systems, file plans, data/records management, and folder structures updates. (Consumer Financial Protection Board)

Accelerated transition to Digital Signature Platforms.

Developed virtual assessments/consultations of records management practices within Agency offices, in lieu of physical office visits. (National Security Agency)
Digital signatures became the norm across the Department. (Department of Energy)
Past business practices requiring wet-ink signatures have converted to the use of digital or electronic signatures. (National Science Foundation)
The Department of the Interior released a Digital Signature Directive on March 30, 2020 which established the Department's standards and guidelines for signing electronic documents with digital signatures. This directive embraces the full utilization of the PIV card digital signature capability for all internal documents as well as with external documents whenever possible. (Department of the Interior)

Delays and interruption of planned NARA records ascension projects.

COVID changed Federal Electronic Records by interrupting and delaying some important records management projects, particularly those that require physical access to records. This includes the project undertaken in late 2019 to send approximately 3000 CF of overdue permanent records as part of the DOE Historian's collection to NARA. Our team's access to the collection was halted, and the NARA FRCs were not accepting records for most of the period. (Department of Energy)
BPA has been unable to enter our records holding area in our headquarters facility to dispose of temporary physical records and prepare offers to NARA of any eligible analog permanent records. Additionally, BPA is retaining all COVID related records permanently because they are unscheduled. (Bonneville Power Administration)
Most employees are teleworking due to COVID-19, which has delayed our paper records inventory, disposition and shipment of records to NARA. (Financial Crimes Enforcement Network)
The COVID-19 pandemic caused a delay in the transfer of records to NARA. The next transfer to NARA will include all records available for transfer. The Commission has, however, retained access to essential records through its internal electronic management system. (U.S. Sentencing Commission)
COVID-related FRC and off-site storage closures limited the availability to access some paper-based records requiring adjustments to some ORMS customer services. (Securities and Exchange Commission)

COVID changed Federal Electronic Records by creating delays in digitization projects.

Negative impacts of COVID include: 1) slowing down our digitization of physical records; 2) limiting or slowing progress on records management systems contracts and projects; and 3) responding to FOIA and other sorts of reference requests that required access to our physical records at the Federal Records Centers. (Department of the Interior)
Planned digitization projects have been put on hold until NSF returns to normal on-site operations. (National Science Foundation)
Review these resources:
#NARACompliance #M-19-21