1200 register for a federal records event. Surprised?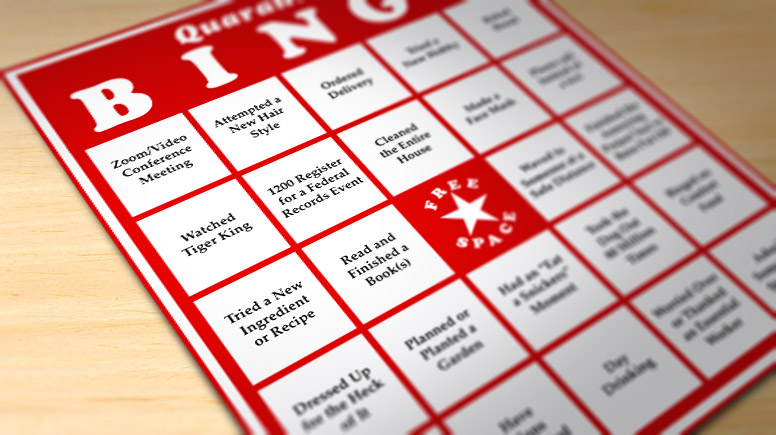 It's become fashionable on Twitter to look at some of the crazy, totally unpredictable events of 2020 with the comment, "I sure didn't have XXX on my 2020 bingo card!" Just search on "2020 bingo card meme" to get an idea. There are "Apocalypse" bingo cards and "Corona" bingo cards and "Trump" and "Biden" quote bingo cards and countless others, but so far no 'Federal Records Event' ones.
I've been doing the Federal Records Management thing for over two decades, and one thing I did NOT have on my 2020 bingo card was 1,200 registrations for an M-19-21 event.
For those unfamiliar with federal government terminology, M-19-21 refers to the OMB/NARA document outlining these records and information management requirements:
By the end of 2019, Federal agencies were required to manage all permanent electronic records in an electronic format, and by the end of 2022 all permanent records must also include appropriate metadata.
By the end of 2022, Federal agencies must also manage all temporary records in an electronic format or store them in commercial records storage facilities.
After December 31, 2022, NARA will no longer accept transfers of permanent or temporary records in analog formats and will accept records only in electronic format and with appropriate metadata.
Beginning in 2023, agencies will be required to digitize permanent records in analog formats before transfer to NARA.
I've been writing a lot about M-19-21 HERE.
What on earth is going on? Why did 1,200 people register for a federal records management event?
I think the reason is that the COVID situation has put a punctuation point on the digital disruption that is all around us. It has transformed the way we work. It has crammed two years worth of digital transformation into two months. It has made us all more cognizant of the strange things that can go on during a video conference.
But the main thing is that it has highlighted the reality that if your agency's information is not under control, you are not prepared for virtual work. And if your agency is not prepared for VIRTUAL work, it's not prepared for WORK.
Information assets are at the heart of how an agency responds to constituent needs, how it manages complex FOIA requests, how it manages citizen information, and how it records history for future generations.
Watch for the recording of the event in the next few days. And meanwhile, if you work at a federal agency, we encourage you to take this M-19-21 Readiness Assessment and get a sense of how prepared you are relative to ten key information management competencies.
M-19-21. It's prime time.
#NARACompliance #M-19-21